Welcome to A Different Breed's website! We are a 501c3 animal rescue organization that primarily rescues dogs from the DFW area 'kill' shelters,along with taking in dogs from puppy mill raids and accepting breeder releases. We have a passion for rehabilitating the animals in our care,both physically and emotionally,and then finding them their perfect forever homes. Our rescue group cares for dogs in individual foster homes,as well as at our dog sanctuary. We are always looking for more volunteers and foster homes to help with our mission of saving as many dogs as possible. Please look around on our website at the dogs and cats that are available for adoption,a few of the 'happy tail' stories,volunteer/foster opportunities,ways to help the rescue group in the form of product or monetary donations and shopping opportunities where certain Retailers pay us commissions for goods purchased by launching from our website. Please contact us with any feedback or questions and thank you in advance for your support of our community's rescue animals!
*Sonia's story: 
Sonia belonged to a couple that could no longer care for her and the dog had no place to go.  She is obedience and house trained and when the apartment of her new owners was broken into,Sonia jumped the burglar and held him down with her paw on his throat until the police got there.  The remarkable thing is that she did not leave a mark on the man's throat but held him at bay. On a separate incident,a man in the parking lot was about to hit a little boy that was not related to him,and she jumped in and kept the man from hitting the child.  The man in question was escorted out of the premises by security. She now helps the manager of the apartment complex to sniff out drugs.
A Different Breed organization's role in the rescue of Spirit
Dinesha Schmidt and I went out on a call to help take some puppies from a man overrun with animals out Caddo Mills/Greenville area.
A concerned neighbor had made the request.  The whole neighborhood of trailer homes were overrun with loose dogs and animals everywhere.  We took in 7 outdoor dogs,Great Pyrenees/Shepherd/Aussie mix pups about 7 weeks old.  We also took in 5 puppies he had indoors.  They are a mix of spaniel/dachshund about 5 weeks old.  He would not release the mothers,but promised he was going to get them spayed.  Said he had over 100 puppies last year!
He also had a couple of horses,and one out front was tied to a tree and covered in blood.  The dogs were licking it off her legs.
He said she had been spooked by something,and reared up and came down on a metal stake.  It went thru her chest and out the side of her neck. We went and looked at that poor miserable horse,and she had a hole in her chest you could put your fist into!
It wasn't much better in her neck.  She had no food or water within reach.  The owner was a 73 year old disabled vet,with no money,no car,etc. etc.  He said he called and vets wanted $300 just to come out there to look at the horse and he could not afford that.  Said he called around but no one would help him.  We asked if we could try,but if someone came to help,they would want the horse released to them,and he said he would let her go.  He can't afford her anymore anyway.  We took several pictures of the horse and her wounds and left.
By the time we got home it was already about 7:30 PM.  We emailed our pictures,posted on Facebook,and started calling rescues in the morning.  The first one we called was "Beckys Hope Horse Rescue"in Frisco.  They were AMAZING! They were out there within 2 hours and by the time they got there the horse was down on her knees with her head on the grass in shock and dying.  They immediately took her to the vet and got to work on her!  Thankfully,she is going to pull thru,but she would not have made it thru
the day. She is a beautiful 2 year old Arabian/Quarter horse filly. They named her "Spirit".  I am thankful for all the animal lovers and rescues who work together to save ANY animal from suffering,but am very happy to add a HORSE to our list of saves for 2015!
Joni McConnell
Ellie
Ellie is a 4.5 pd chihuahua of about 3-4 yrs of age. Sometime in the past either somebody kicked her or stepped on her. Her leg is now permanently twisted and her kneecap is moved over to the inside of the leg. It can be fixed. Sachse Veterinary Hospital (www.sachsevet.com / 972 -442-4441) has agreed to do the surgery for 1200-1500.00. We are fundraising to provide Ellie with the surgery she needs. For donations,please call the clinic at 972-442-4441 (the number is listed on the website) and ask to donate to Miss Ellie/Tiny Chi. Thank you for your donations and generosity. Or people can click on the donate button at adifferentbreed.org –specify Ellie.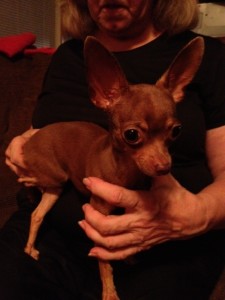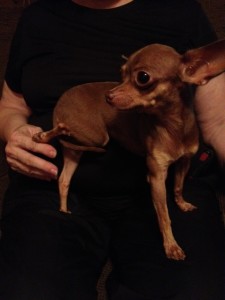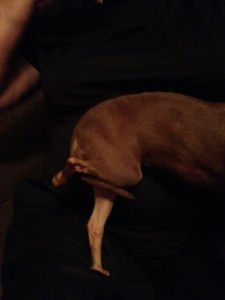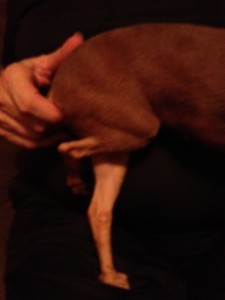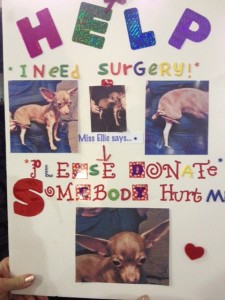 Ellie had surgery the beginning of February,and we are pleased to say that it was a success! She is expected to regain full use of her paw when the pins are removed in a few weeks. Many,many thanks to our donors that have contributed to her surgery and our heartfelt thanks to the doctors at the Sachse Veterinarian Hospital.
Toby
Toby came to A Different Breed in a round about way. He was purchased from a breeder by a family that loved him dearly,but unfortunately Toby managed to find an exposed electric cord and bit through it,causing a great deal of damage to his mouth. His lips,cheeks,and tongue were severely burned,requiring multiple surgeries to repair the damage.  The family choose not to spend additional funds and chose instead to release the dog to a volunteer.  The volunteer searched and found Veterinarians Dental A.S.  and they stepped up and offered their services to us at a greatly discounted price.  They have performed three surgeries so far,and along with hospital care they have been absolute angels.  They have allowed us to pay as we can on the surgeries already done. Possibly additional surgeries will be required for the next 6 months.
Please donate to help Toby by PayPal or by mailing a check to either
A Different Breed Organization
11700 Preston Road #660,PMB 335
Dallas,TX 75230
or
Veterinarians Dental A.S.
1260 Coit Rd
Dallas,TX 75251
Please mark checks "for Toby at Different Breed"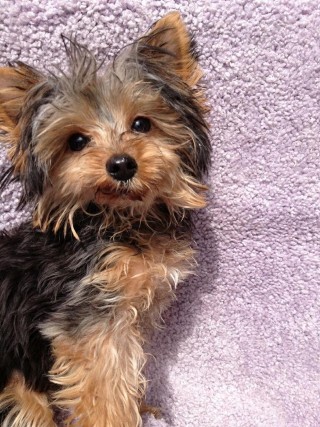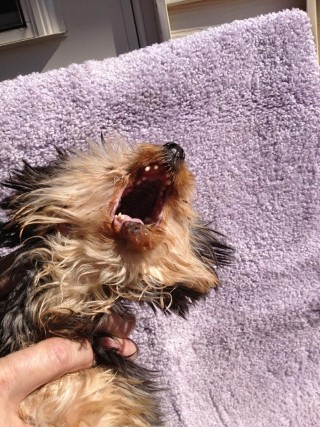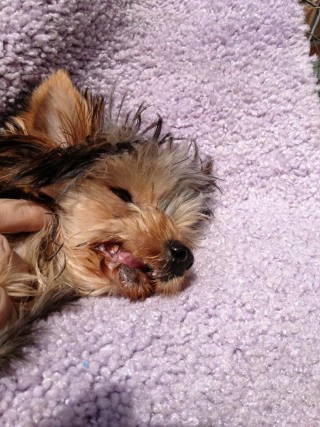 Patrick
While in the care of a wonderful family,Patrick had the misfortune of breaking his leg at the elbow. His owners could not afford the necessary surgery and turned him over to A Different Breed rescue.
Due to the wonderful services of Mustang Veterinary Clinic of Pilot Point,Dr. Paul Dean,Patrick was operated on and is now fixed up and on the road of a full recovery,walking without cast or bandages. His leg is continuing to get stronger and you can see a series of photos of Patrick in different stages of his treatment and also a picture of the screw that was used in his leg.
A BIG Thank You to Richard and Monique Voelker,with Animals Abused-Abandoned for raising the funds for Patrick's surgery.